GSA PRIDE CLUB! The GSA pride club is a group meet-up where LGBTQIA+ and allies can come to socialize and make friends! There will be a meet-up every Thursday from 2-3:00 pm in BLDG 17 at LCC. If you would like further information, please get in touch with Myra Breen at
mbreen@marcola.k12.or.us
Hello TEACH-NW Families! We would like to remind you that semester 1 ends January 26th. We hope you enjoyed your Winter Break! Happy New Year!
Hello TEACH-NW Families! Quick reminder that Winter Break begins on the 16th of December and ends on January 3rd, 2023. Check-ins will resume on the 4th of January, 2023. Enjoy your break!
Hello TNW Families, I am writing to you today to share that I will be addressing mental health awareness this month in Advisory courses. Empirical data supports the benefit of having conversations regarding our mental health with youth as it normalizes our human experiences. Our youth are growing up in a world that we have not encountered in our lifetimes. It is important that they know all our emotional responses are okay and that there are ways to cope that are constructive. Although my role with TNW does not include the scope of official counseling, my background is in Clinical Mental Health and I welcome the students to reach out if they feel they would benefit from an informal conversation. I have placed a Mental Health Resources folder in each advisory course in Schoology. Within this folder I have placed a link to a form in which they can report any suicidal thoughts or concerns, for themselves or for a friend. In the event that I receive one of these forms from your student, you will be notified to ensure that the student receives the support needed. If you have questions, please feel free to reach out, Lisa Sequeira M.A. Academic and Career Counselor (541) 952-1156
Hello TEACH-NW families, Just a quick reminder that school will not be in session on November 23rd and November 24th. Happy Thanksgiving. Enjoy your long weekend, and we will see you back on November 28th.
Calling All TNW Middle and High School Makers and Creators! TNW will be bringing back our Video Game Design team again this year. This student led team will work to develop both their team and to design a video game and it is a great opportunity for all writers, artists, musicians, designers, marketers, and programers! This year will look a little different as there will be two coaches, Dustin DeGeorge and Cindy Morris Anderson. Dustin will be leading the way with the technical aspects of the design and Cindy will be handling the logistics. Students will meet, either on Zoom or in person at TNW, on Monday's at 4PM. Our first meeting will be on Monday, November 14th. If your student is ready to jump into this exciting opportunity, please copy and paste this link into your web browser.
https://docs.google.com/forms/d/10RHeF_L54aEXb669I91DZH6H6nUrSUz5WUrenxRQ-go/edit?ts=636409ab
Hope to see your student there! Sincerely, Dustin & Cindy
November is Native American Heritage Month! Learning about tribal nations in Oregon is important for all students. Each nation has a distinct origin story, worldview, and timeline of their history and contemporary context. However, much of that information has been presented to the general American public from a non-Native American perspective, filled with clichés, misconceptions, and falsehoods. The ODE partnered with representatives of the nine federally recognized Tribal governments in Oregon to create Essential Understandings of Native Americans in Oregon. The essential understandings serve as an introduction into the vast diversity of the Oregon Native American experience. Tribal History Shared History includes lesson plans for Science, Math, Language Arts, Health & Physical Education, and Social Studies.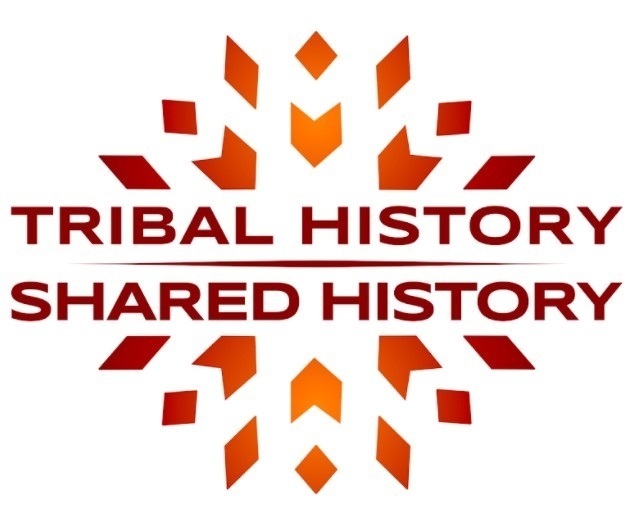 TNW Families: Harvest Festivities October 31, 2022 9:00-2:00 Cantrall Buckley Park 154 Cantrall Road, Ruch Oregon
Eugene Symphony Youth Concert SIGN UP CLOSES THURSDAY, OCTOBER 20th at 4pm. Please fill out this form if you would like to participate (copy & paste into web browser)
https://bit.ly/3CLvxy0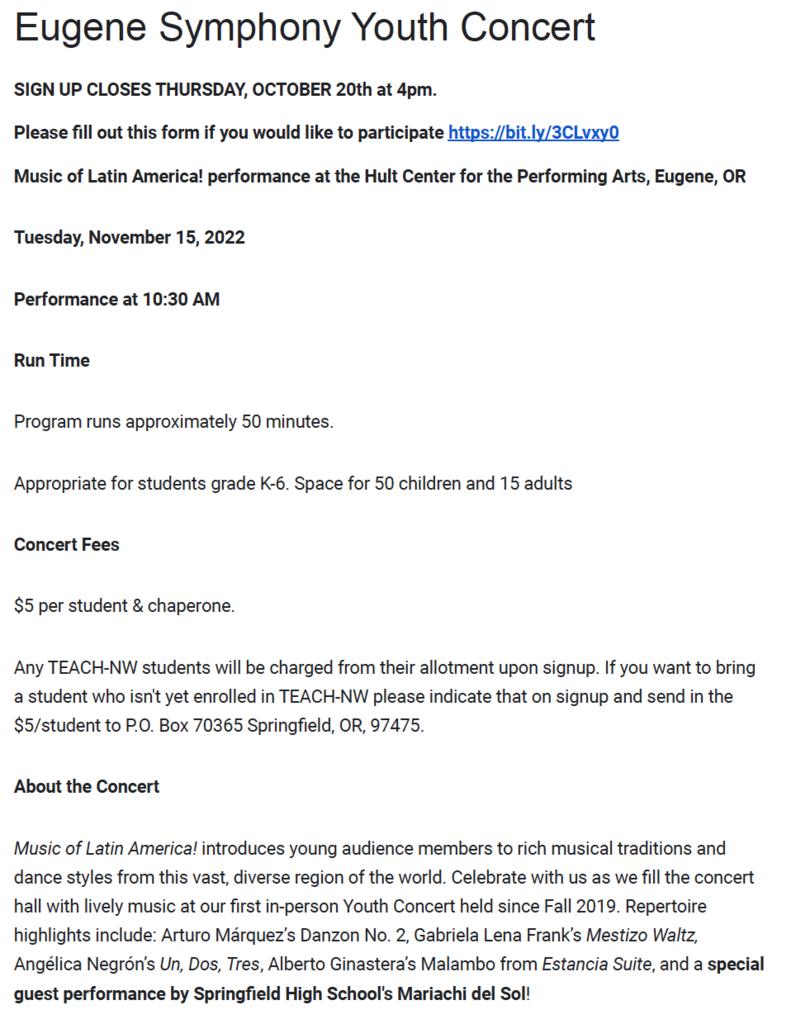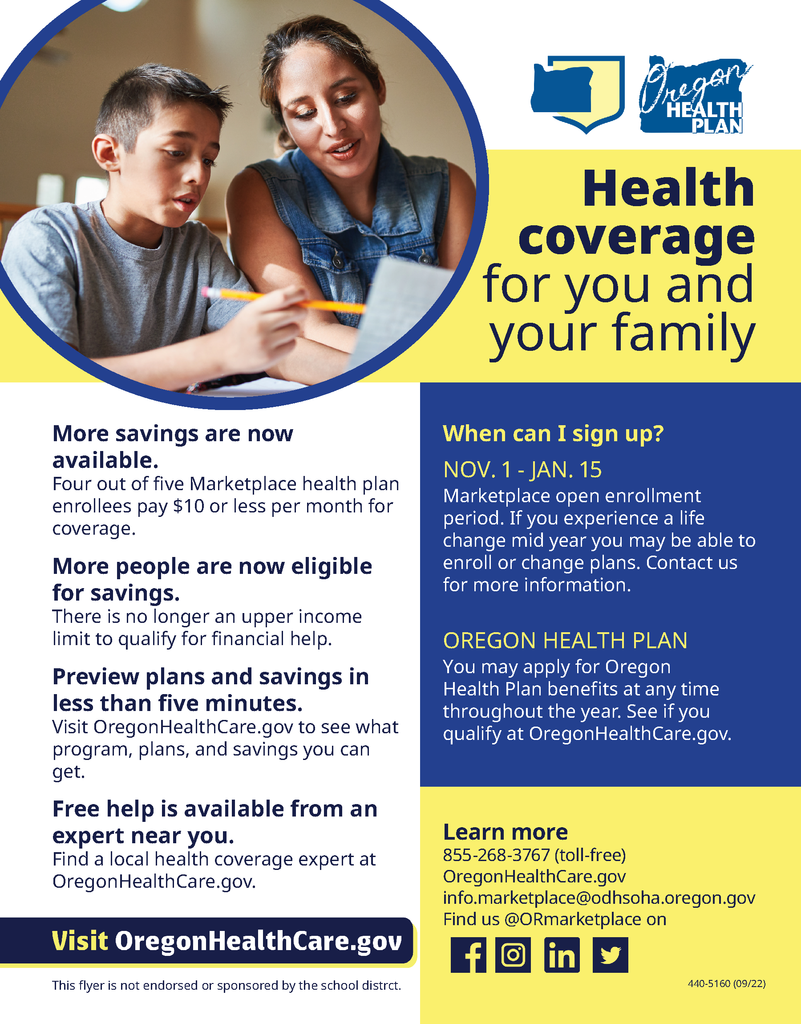 HelloTNW Families! Freshman, Sophomore, and Junior Advisories will begin next week! Freshmen- 2nd Tuesday at 9 am Sophomores- 2nd Tuesday at 10 am Juniors- 2nd Wednesday at 11 am Seniors meet twice a month due to the heavy content load on the 1st and 3rd Wednesday of each month. The Zoom links can be found in Schoology. Please advise your student to access Schoology prior to the scheduled time to ensure access and familiarize themselves with where to find the link. I am super excited to meet your students and explore college and career-related topics. Lisa Sequeira M.A. Academic and Career Counselor (541) 952-1156
Good Morning TEACH-NW Edgenuity students!! As an advisory, we are in the process of updating our TEACH-NW Edgenuity system. The only significant change you'll notice as a student is that at some point later today (4/23/2022) and certainly by tomorrow (4/24/2022), you will be required to use your school email as your login username. Your password will remain the same. If you are uncertain of your school email, please contact your assigned TEACH-NW Instructional Coach (IC), and they can assist you.
If you haven't met or heard of Zeke yet, you surely will at some point in the future. Thank you Lara for allowing us to share Zeke's special moment! "This is the video of Zeke's recent lecture/demo to about 30 members of the local amateur radio club. A large portion of the group remained after the demo for another hour in order to verify that his ISS tracker did indeed indicate when the ISS was overhead. (The ISS circles the globe every 90 minutes). This video begins with stills, but goes into video mode less than a minute in. There will need to be a follow-up video to explain "the making of this video" due to the Herculean effort Zeke used to splice together audio, slides and video from three separate sources! He taught himself, (thanks, YouTube!), how to edit and publish videos using Blender software. During the Q&A session you can hear the original audio that Zeke had to manipulate and edit. (Subtitles are provided.) Here's the link to the video:
https://youtu.be/_LG5urNUqg4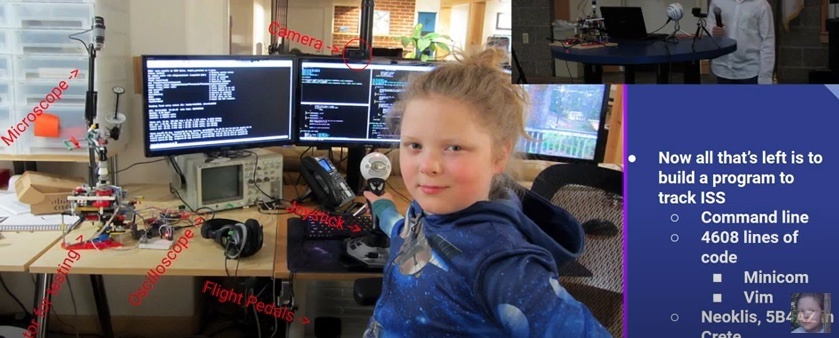 Welcome to the 2022-2023 School Year!! Check-Ins will begin September 7th.